NASBP Virtual Seminars provide need-to-know information from leaders in the surety industry approximately twice a month throughout the year. With NASBP Virtual Seminars, you will enjoy:

Learning at your fingertips — education brought to you at your computer or mobile device or login as a group and share the information with colleagues and/or clients - all for one low price per location/ login.
Interactive platform with Q&A features allowing you to connect with speakers and part of the conversation during the live webinar.
Access to the on-demand recording for 1 year and much more.
Registration for individual Virtual Seminars- $89 for members or $179 for non-members*.
Upcoming Live Virtual Seminars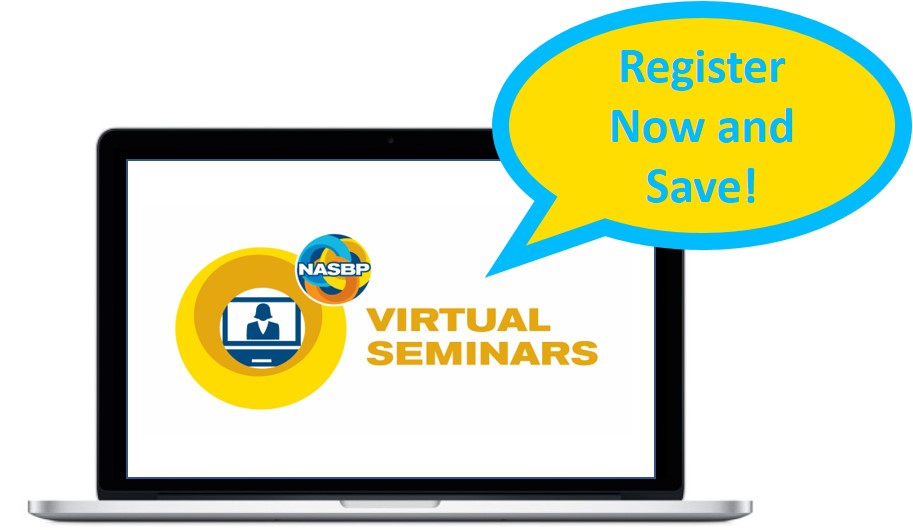 NASBP 2020 VIRTUAL SEMINAR PACKAGE
​Registration for the 2020 Virtual Seminar Annual Subscriptions, is now open and available only to NASBP Members, Affiliates, and Associates. Still only $995–that's nearly half off what you would pay if you bought each of the nearly two dozen Virtual Seminars individually. Again in 2020, NASBP is offering a Subordinate Subscription, available online to the enrolled member location(s) of an NASBP maximum dues-cap member and the branch location(s) of an affiliate member. In order for a Member or Affiliate to be eligible for the Subordinate Subscription, one enrolled member location must already have purchased the Virtual Seminar Annual Subscription at the $995 fee. Then when any (or each) enrolled member location goes to register, it will be charged only the $250 Subordinate Subscription fee (If you are not seeing the subordinate subscription rate, please contact Professional Development at prodev@nasbp.org and request a subordinate discount registration code).
Economic Slowdown In 2020? What Is The Impact On Surety Underwriting?
The AXA XL team will share insights on the U.S. economy, latest trends in key industries, and the implications and opportunities for the surety industry. The presentation will initially focus on understanding some of the positive and negative U.S. macro-economic indicators, with a close look at international trade developments and credit markets. Then the focus will turn to various industries for an analysis of recent trends, including banking (with a special section on fintechs), power (with a special section on renewables), oil & gas, and mining. On each segment, the presenters will explore the takeaways for surety deals in each industry, including bond types, strategies, and developing products. Join us for this exciting Virtual Seminar to get a better understanding of the economic trends and their impacts on the surety industry.
Virtual Seminar Recordings Library